Keller Williams
®
Realty is the proud recipient of the
2008 Consumer's Choice Award
™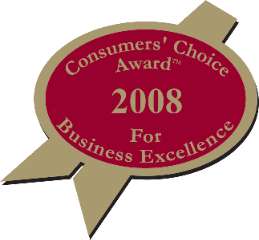 The Consumers' Choice Award™, is an initiative of Consumers' Choice Institute which commissions a leading independent research firm to conduct a comprehensive and objective annual survey where consumers are asked to identify their favorite businesses.
A panel of over 4000 Metro-Atlanta respondents identified
Keller Williams
®
Realty as "Best in Class"
in the Residential Real Estate category considering criteria such

as
Value, Professionalism, and Service.
The Consumers' Choice Award™ is the most prestigious tribute to businesses that serve their clients well. For all of us at Keller Williams
®
Realty, this
award not only constitutes the crowning achievement of our efforts to provide unsurpassed service, but more importantly it also represents the most valuable reward of all, the knowledge that we have earned the trust and loyalty of consumers throughout the area.
When I list your property, you can be assured that you will receive award-winning real estate services to get your home

SOLD

!